Summary:
Category: Traditional Cloth Souvenir Store (unique local clothing)
Business Name: Fikri Koleksi
Review date: September 16, 2017
Location: Palembang City, Province of South Sumatra, Indonesia
Souvenir quality /price: good
Prices: USD 8 (polyester shirt) and higher
Recommendation: recommended place to look for local unique clothing gifts /souvenirs
Recommended transportation to get here: rental car
Description and Location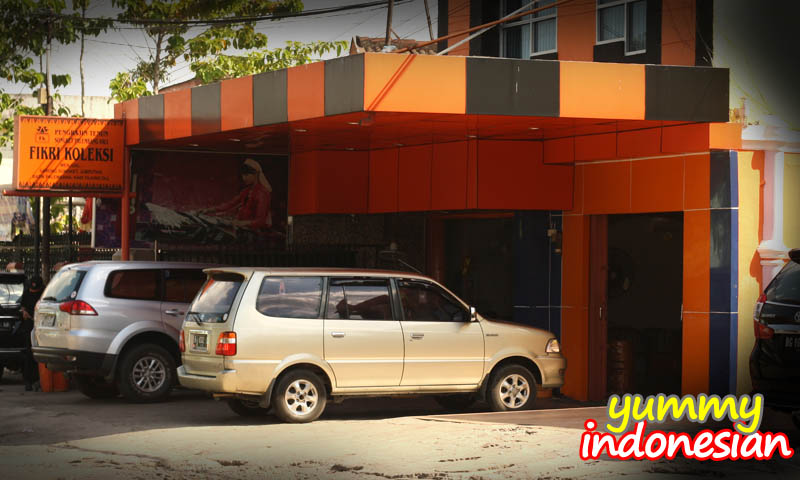 Fikri Koleksi is a souvenir store specializing in South Sumatra unique fabrics. It is a simple traditional store, which does not look big from the outside, even though it has tremendous space inside. The store is located near the Musi River with its address /contact number as follows:
Street address: Jalan Ki Rangga Wirasantika No.500, 30 Ilir, Ilir Barat II, Palembang, South Sumatra
Google coordinates: -2.997544, 104.749714
Contact number: Land Iine  +62 711 310554
Recommended transportation: rental car, click here for people who can help.
General information
This store provides various collections of local unique cloth, both in ready-to-wear, and raw materials for custom tailoring. As with many other Indonesian ethnics, South Sumatra has its own unique woven motifs. It is best known as songket, a hand-woven fabric, usually made of silk or cotton, with gold or silver threads embroidered in.
Songket itself used to be a luxury product (it is still now, depending on its complexity), which apparel made of it usually worn or just wrapped around a shoulder on ceremonial occasions. There are many categories and variety of the cloth. A songket cloth with more complex and intricate the pattern usually has higher price tags. The higher end may cost consumers over USD 100.
The store also provides local batik unique to the Palembang area (many parts of Indonesia have their own unique batik cloths). And there are also cloth called jumputan (tie dye), also with unique South Sumatra motifs.
Also available is kain tajung, which is usually intended to be made men's cloth such as shirts. This usually comes in bright colors in rectangular motifs, which looks like motifs of sarong, common attire in Indonesia .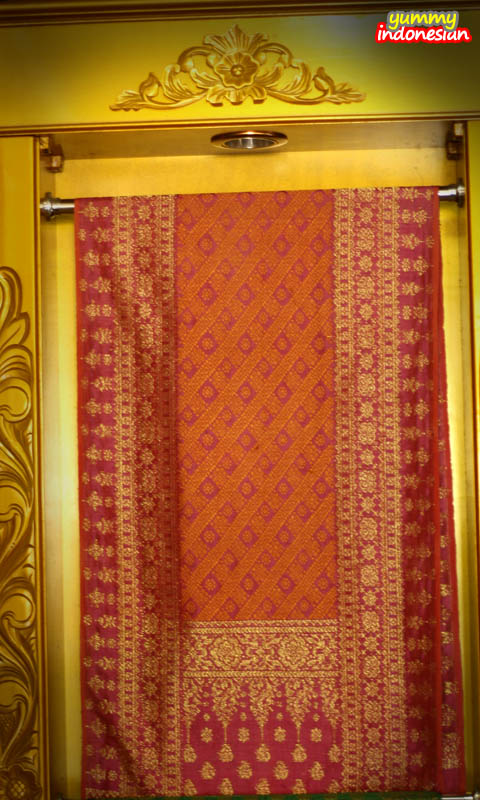 Fikri Koleksi has its own production facility, where workers make the fabric. Their collection is vast, from shirts to just any other possible clothing made of the cloth material. The products are available from very affordable shirts up to raw songket and batik which prices are much higher. The fabric materials vary. Some are silk, cotton, and there are also polyester (which makes the cheap shirts). Even the cheap shirts are very attractive.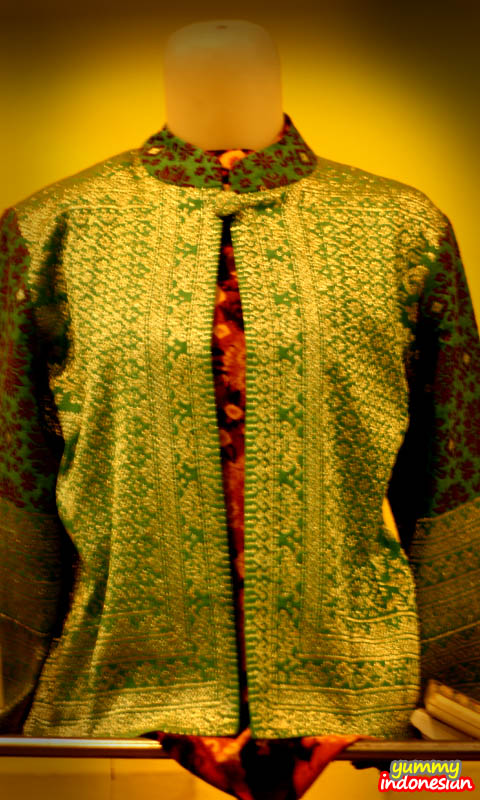 Our experience
Parking space is limited, especially during high season. We took advantage of a rented car (see here if you need one) so we didn't have to worry about it. Guests were marked with stickers (a bit annoying, probably marking for who-gets-commission for the purchase).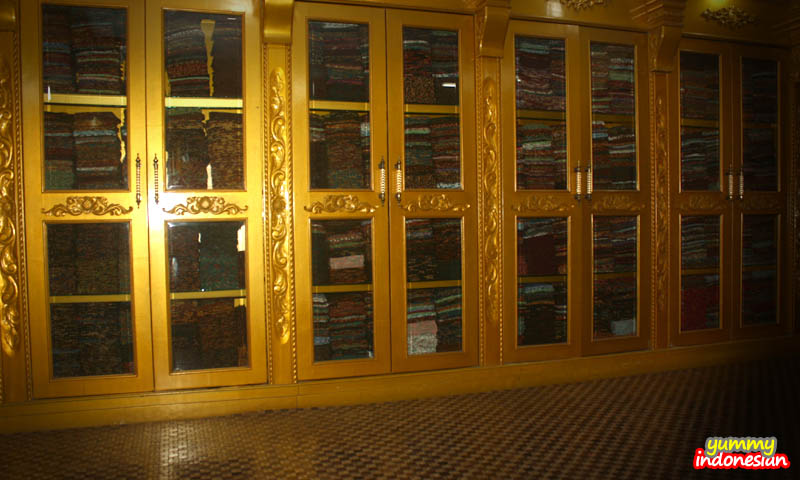 Buying experience: selection was abundance! Even the cheap shirts were very enticing. There were so many closets full of cloth materials which would satisfy any visitor's appetite, at least to feast our eyes on. The servants were nice and not pushing, and there were enough of them to serve the visitors. And they were not reluctant to answer questions or unfold the products on the floor for the visitors to get a feel of. It was a comfortable purchase experience.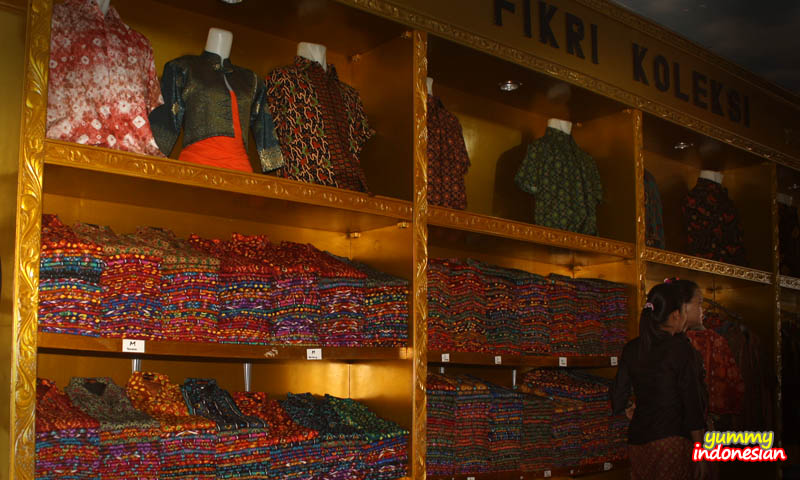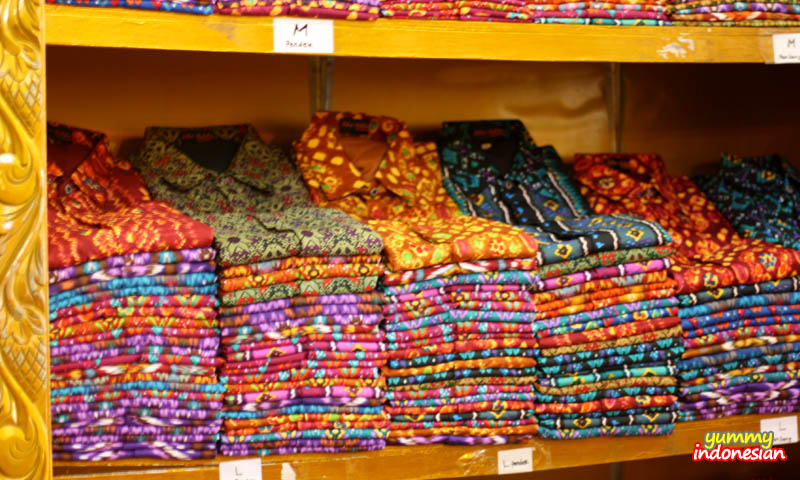 the colorful shirts in more details
Conclusion: This single place can satisfy visitor's inquiry on local Palembang /South Sumatra clothing with various affordable to lavish collections of clothing materials. One can spend a significant amount of fund here and come home satisfied with the purchases. Service is good and the people are quite nice. Overall, a souvenir store a visitor should not miss.