Hi. Look. That's me. At a small food stall on a beach. With some very delicious food and nice coconut water still in its shell. Yummy? Definitely!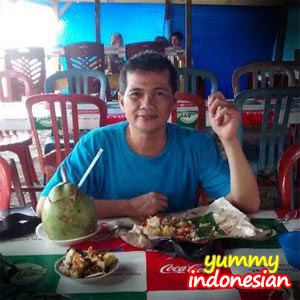 Just like everybody else (at least most people), I love to travel and find delicious food. And eateries are places I look to when I go travelling.
There are so many nice places to spend time at and and eat. Some are fancy places with nice, cozy restaurants. Some are local lodgings and street food stalls. And there many more in between.
They're everywhere, and most are very affordable.
---
Nice places to stay and delicious food are everywhere. And there are many places where delicious food is very affordable to get.
That's what this site is for. I will present some of the best places I've ever visited, which are worth it. I would not recommend (or write) anything that fails to meet my expectation or satisfy my appetite. And I'd include several tips or advice specific to the places I visited.
Of course everyone has his own favorite taste. What will be reviewed in this site are Indonesian travel places and food, so we may see a lot of traditional food, local hotels, and places to buy gifts or souvenirs.
And I might review some tourist destinations and recreation sites too which are relevant to a vacation trip.
So just keep in touch and visit this site often.
Thank you.
Note: the photo above was taken at the beach of the city of Padang, West Sumatra, Indonesia.