Summary:
Name: Emilia Hotel
Review date: September 16, 2017
Location: Palembang City, Province of South Sumatra, Indonesia
Rating: 3 star
Amenities /service quality: fair /good
Recommendation: recommended for business visit
Recommended transportation: taxi /rented cars
Swimming pool: no
Concierge service: yes
Children playground: no
Location
Emilia Hotel is a three-star hotel located in the city of Palembang, South Sumatra province, Indonesia. It is conveniently located in a business and shopping area, in a shopping center complex (Palembang Indah Mall). Google map location is -2.984661, 104.754779. Official contact information for the hotel is as follows:
Street address: Jl. Letkol. Iskandar No.18
Contact number: Land Iine  +62 711 5630 099
Mobile number +62 812 9052 0999
Fax number: +62 711 563 0088
phone: +62 711 5630099
website: www.emilia-hotel.com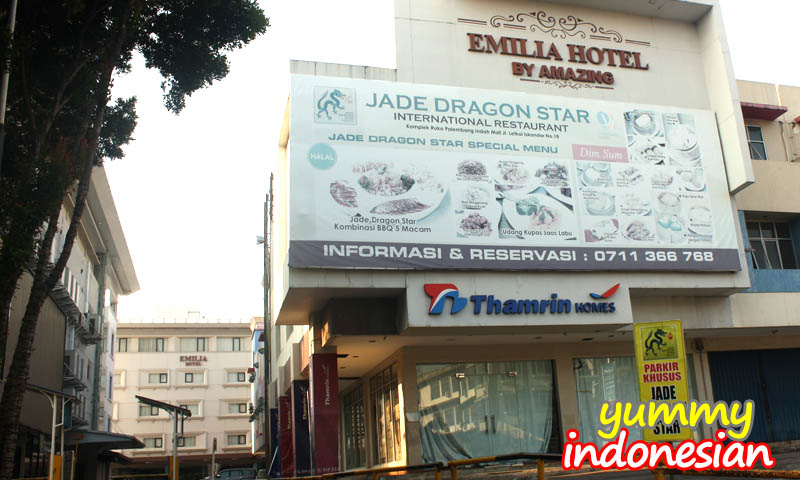 Access to the hotel from the airport is approximately 17 km (10 miles). During busy traffic hours, a taxi ride (recommended) will take about 1 hour, which will cost about Rp 100.000,- (USD 7.5).
The hotel itself comprises 2 separate buildings. Building architecture indicated that the buildings were designed for business office before used as hotel buildings. However, the atmosphere was still comfortable for staying.
Published room rate is from approximately USD 34 to USD 128. The hotel can be booked from many online booking agents such as agoda at low prices.
Hotel room rates in Palembang tend to be on the lower end compared to large cities. Thus guests can benefit from the rates and make spending on other valuables.
Amenities
Hotel features /amenities are fair. It has no swimming pool, no bath tub (at least in the executive suite room we stayed in). There isn't any playground for children. However there is a safe deposit box in the closet.
The hotel's restaurant is not too large, but during our stay, it was never crowded. Ample selection of food is available, including some South Sumatra unique delicacies.
Wifi is available at the hotel.
Parking space is ample. There is sufficient parking in the vicinity of the hotel lobby. And more spaces are available within the shopping center complex.
Our experience:
We arrived late in the afternoon. The receptionist handled our check-in swiftly. It took only minutes to confirm our booking and the bell boy helped with our suitcases to the other building. The service was prompt, swift, helpful and friendly. We got complimentary room upgrade due to busy weekend visits. The executive suite room was quite spacious, approximately 7 m (22 ft) x 5 m (16 ft), such ample space we couldn't even make use of.
There was wifi with good signal strength in the room. It could be used for work, but seemed inadequate for streaming videos. There was this useful long bar table (which I used for work). There was a wooden table with two facing wooden benches in front of the TV, which my son and I used to play chess.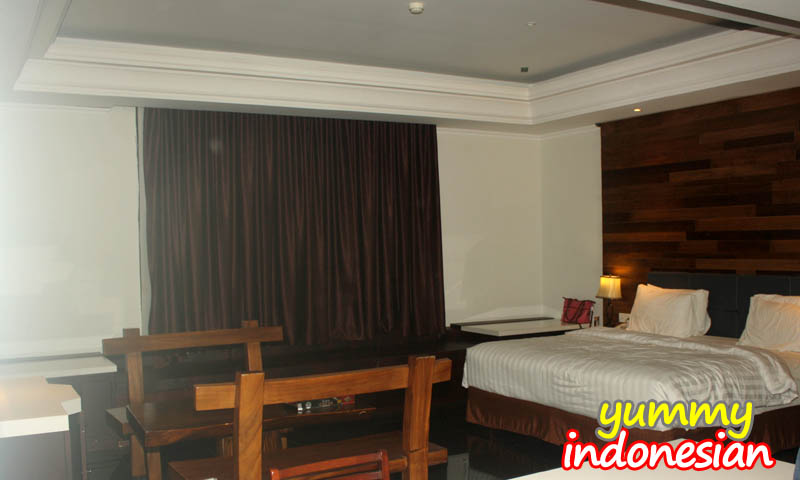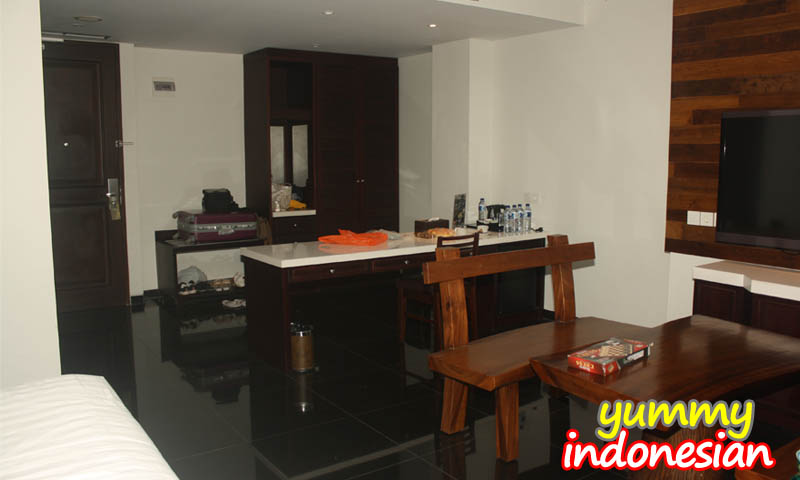 Hotel amenities included slippers, soaps, shampoos, toothbrush and paste, and towels.
There was a very functional kettle to boil water. It heated up water almost immediately, thus it took only less than a minute to prepare one or two cups of hot tea. Instant coffee was actually instant then. Such a relief for time-constraint work!
Everything (well, almost everything) worked seamlessly. The electronic safe deposit box opened, closed, and locked appropriately.
Some minor discomforts: The shower tap which was marked blue turned to be the hot one, and the TV remote worked erratically. TV reception was only adequate. The cappuccino we ordered was not appropriately prepared (not by a barista).
The elevator on the building was on the smaller side. But it was never busy, because it only served several rooms.
Breakfast
Breakfast is served at 06.00-10.00 am. The place was cozy, although not quite generous for space. There were quite a lot of food selection, and local food, such as mie celor, pempek, and local pastries were provided. The taste was good if not great. Overall, the breakfast time was not disappointing at all.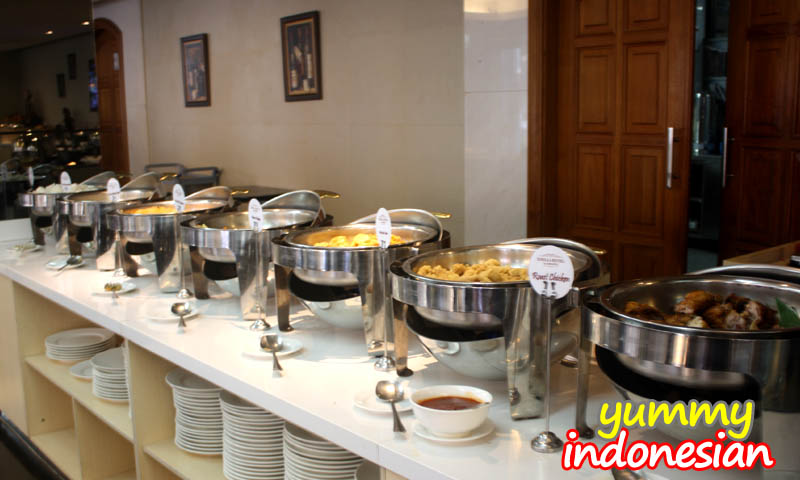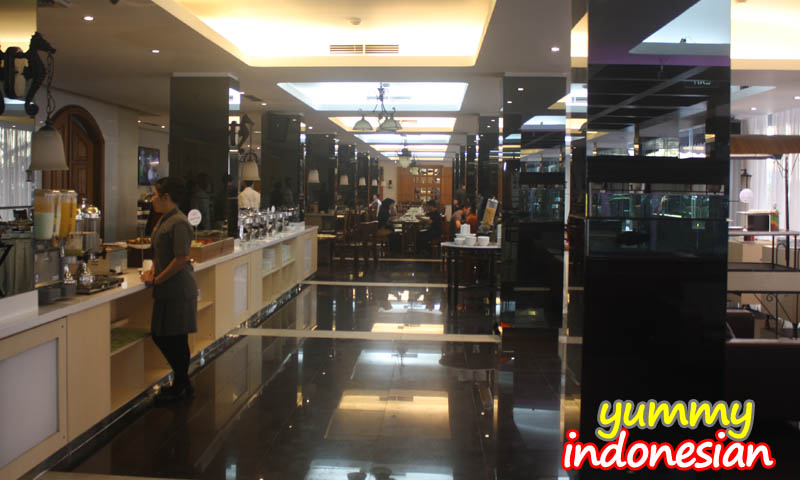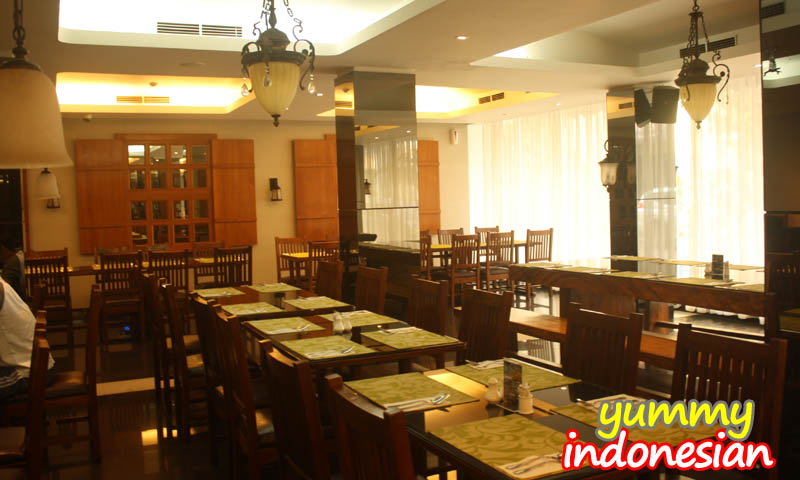 Conclusion: We were quite satisfied with our stay at Emilia Hotel. It is suitable for visitors who visit Palembang for business purpose. It is located not far from the famous Ampera Bridge and the Benteng Kuto Besak (previously a fortress of a kingdom). The nearby shopping center can help guests who have to deal with teenager's or children's boredom, as a substitute of  playground and swimming pool. Considering the price (which was very affordable), the service was superior. There was no major inconvenience. Everyone was nice and helpful. It is a nice place to stay in Palembang.
Tips:
As with any hotel, it is better to test the safe deposit box empty before putting valuables in.
To get around, there are bentors (motor rickshaw) which fare is upon negotiation. For hassle free, transportation, it is recommended to use rented car or metered taxi. The hotel can help with this, or ask the following people to help (see their numbers here).
Palembang is a city with hot climate.  This should be taken as consideration should a visitor decides to take a walk of considerable distance.
There is a small grocery store (an Alfamart chainstore) at the left parking exit of the hotel (to the left when facing the hotel entry door), which should come handy for buying small things, such as snacks or bottled water.