Summary:
Business Name: Warung Nasi Ampera, a chain of Indonesian Food restaurants.
Category: Indonesian Sundanese Food Restaurant.
Reviewed  restaurant address: Jalan Raya Sindangkasih No.90.
Review date: September 21, 2016.
Location: Cikoneng, West Java, Indonesia.
Google coordinates: -7.299424, 108.236199
Quality /price: good.
Approximate spending /person: USD 5 and higher.
Recommendation: place to dine in while en route through the Trans Java South Line (known as Jalur Selatan), West Java. A traditional, large restaurant. Plenty of space to move around.
Recommended transportation to get here: rental car (preferably as a place to stop by during a trip through the Jalur Selatan).
Other entertainment /facility: none.
Description and Location
Warung Nasi Ampera ("warung nasi" literally means "cooked rice meal food stall") is a chain of restaurants serving Indonesian food and drinks, with impression on Sundanese dishes and service style. They have their headquarter in the city of Bandung. They have restaurant outlets in many places around the island of Java, most mainly located on the western side of the Island.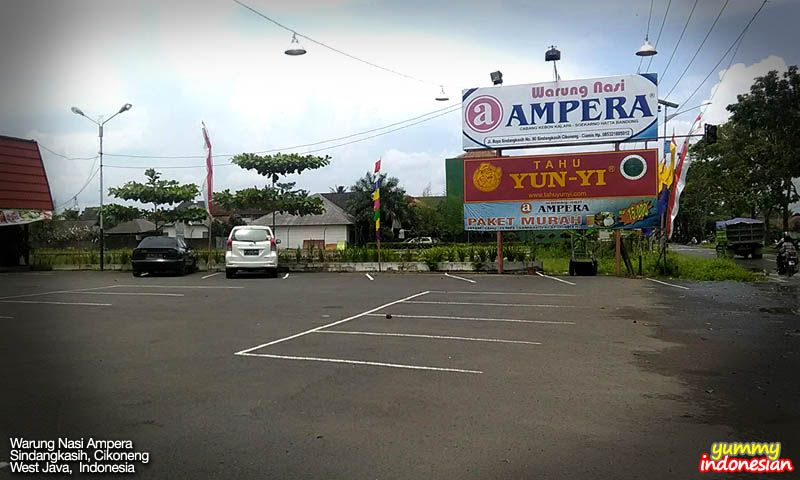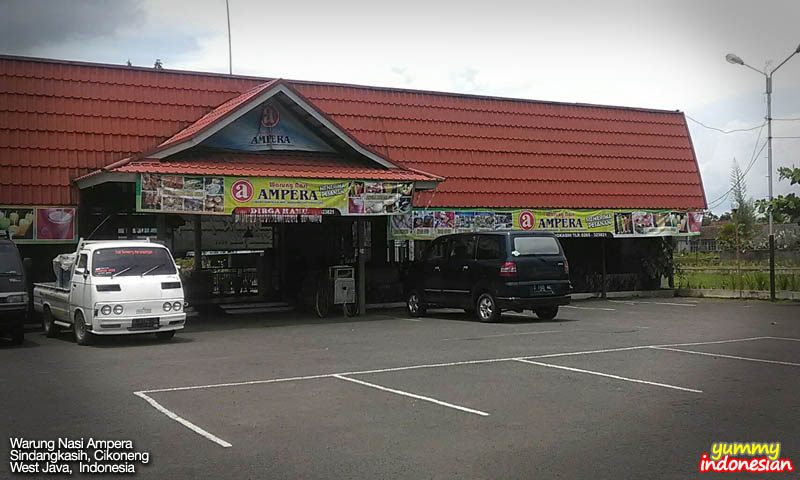 The restaurant in this article is the one located at the region named Cikoneng, on the South Line (Jalur Selatan) of the Java Island.
Detailed location of the restaurant we visited for the review is as follows:
Reviewed store street address: Jalan Raya Sindangkasih No.90, Sindangkasih Cikoneng, Ciamis, West Java.
Google coordinates: -7.299424, 108.236199
Recommended transportation to get there: rental car, possibly when traveling through the South Line.

What's available
This restaurant provides wide variety of local Sundanese dishes. They serve the dishes as a complement to cooked rice, the staple food of most areas in Indonesia. And only Indonesian food is available.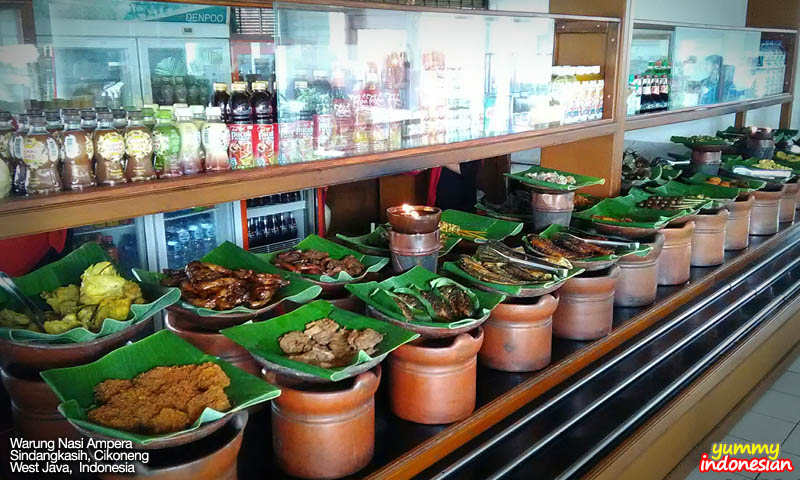 There are quite a variety of dishes, such as fried fish (gouramis, goldfish, and others), fried cow's lung. There is beef dish called empal (sweet and spicy fried beef ), fried anchovy fish with stink bean and chili (very delicious, if it agrees to visitor's taste).
There are  some sorts of vegetables, such as sayur asem ( peanuts, young jackfruit, young leaves and unpeeled seeds of melinjo, bilimbi, chayote, long beans, all cooked in tamarind-based soups), sayur lodeh ( young unripe jackfruit, eggplant, chayote, melinjo beans and leaves, long beans, green chili pepper, tofu and tempeh, cooked in coconut milk), and some others. There is also karedok ( raw vegetable salad in peanut sauce) which sauce is quite spicy.
Many of the dishes are supposed to be consumed with chili sauce. A table with three selections of chili sauce and lalapan (raw vegetable) is provided in the restaurant. The sauces are:
sambal bajak (chili (or another kind of red pepper) fried with oil, shallot, garlic, terasi, candlenuts, palm sugar and other condiments), this is the hottest of the three;
 sambal manga (freshly ground sambal terasi with shredded young unripe mango)
sambal terasi (red and green peppers, terasi, sugar, salt, lemon or lime juice ), tangy and strong.
Serving is made with food displayed on a long buffet, where visitors determine how many portions of rice are required, make selection of dishes, let the restaurant cook them, and then go to their table to wait for the dishes to be ready.
As the visitors sit down, hot plain tea will be served. Visitors may opt to pick up the selections sambal (chili sauce) and the lalapan (raw vegetable) to take to their table
Our experience:
We visited the restaurant while we were on a trip through the Southern Line. It was not a holiday season, so the route was not crowded. The vast parking area was mostly vacant, there were only few visitors, maybe because it was at 11.00 am, not even lunch time yet.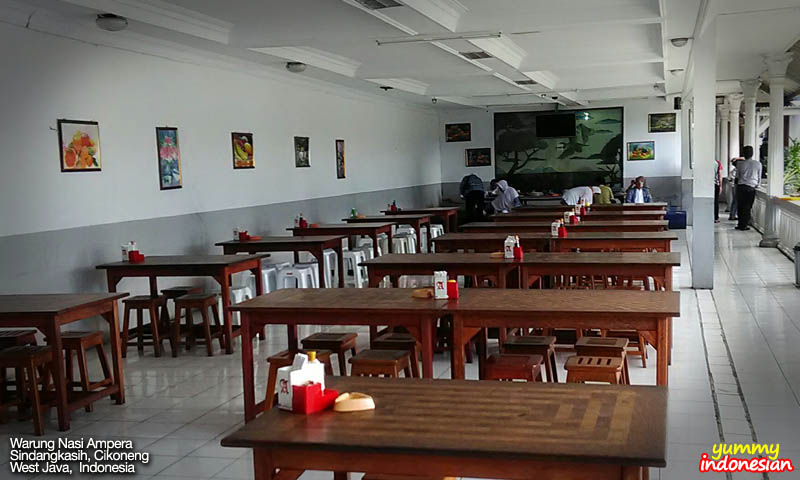 The place was clean, there were not many visitors, and there were abundance of dishes. The place was just like other Ampera's branches we have visited. It was a nice, cozy place, which was very comfortable to bring the family with.
The history of Warung Nasi Ampera was posted on the restaurant's wall, that reads as follows  (translation below).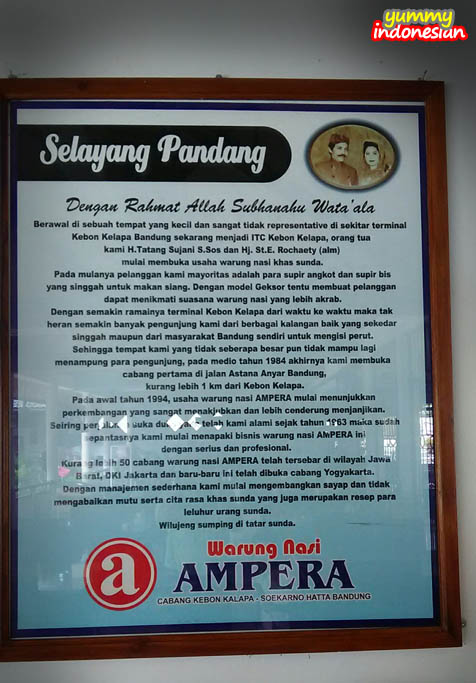 English translation:
Brief History:
With the blessing of the Almighty God
Starting at a minuscule place which wasn't representative at all near Bandung Kebon Kelapa Terminal (then the public transport facility terminal of Bandung City), now ITC Kebon Kelapa (a shopping complex), our parents, the late H. Tatang Sujani S.Sos and Hj.St.E. Rochaety started the Sundanese unique meal stall.
Our majority of customers were the city public minibus drivers and bus drivers who stopped by for lunch. Using the Geksor* model, the customers could enjoy a warm, more friendly atmosphere.
With the Kebon Kelapa terminal getting more crowded year after year, our visitors also increased, and then they came from various social classes. There were still those who just stopped by on their way or from the Bandung residents who came for meals. The small place soon reached its maximum service capacity. In the middle of year 1984 we opened up the first branch at Jalan Astana Anyar Bandung, approximately 1 km from the Kebon Kelapa terminal.
In the beginning of year 1994, Warung Nasi Ampera started to show an astonishing progress and tended to be prospective. With the ups and downs we went through since year 1963, it was only appropriate that we developed Ampera meal restaurant seriously and professionally.
More than 50 branches of Warung Nasi Ampera are now scattered in West Java, DKI Jakarta, and recently, in Yogyakarta. Implementing a simple management, we started to expand without compromising quality and the Sunda unique taste which is also the recipe of Sundanese ancestors.
Welcome to the Sunda region.
*Geksor comes from the word gek (a seated position) and sor (serving drink). This type of service means visitors will be served free plain hot tea as they take their seats. It is common to most traditional restaurants in Indonesia.
Service was prompt, there was no fuss. As we finished with dish selection, we took our seats, picked up the sauces and lalapan,  tea was served, and within less than ten minutes, our dishes came out.
Most of the dishes were prepared by frying. So it was almost fried-anything dining. The food tasted quite good. While not being excellent, the hot sauce did help improving the taste.
The price was very light for a family meal, and the service was good.
Conclusion:
Warung Nasi Ampera could be an easy choice to get Indonesian cooked rice meals when traveling with a family on routes in the western part of Java Island. The chain restaurants are easy to find, the food is good and service is nice. And on the Java main routes, they are usually open 24 hours.
Tips:
This chain of restaurants serves only Indonesian /Sundanese cooked rice meal. Make sure it is what a visitor is looking for.
The sauces are hot, some are really hot. Visitors who have sensitive stomach may want to be very careful.
It takes about 4 hours from Jakarta to the restaurant's location. Tourists leaving from Jakarta at 08.00 a.m. will pass through the location at approximately lunch time.